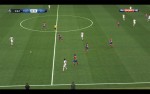 Adds TV logo watermarks to Champions League scoreboard, options are:
BBC Sport | BT Sport | Canal Sport | Sky Sport HD | Sky Sport 1 HD
INSTALL:
Simply pick the version you like (see screen grabs), goto the folder of the logo you want, and copy "pes14_win_dat" to your fileloader "pes14_win_dat" location and overwrite. (You can only use one at a time).
If you want to swap in-game, simply go back to main menu, alt-tab and copy files to fileloader directory and it
will get displayed on the next game you play. Dont swap while in a match though, it will crash the game.
NOTE:
This does require latest Fileloader to work, this also doesn't support 4:3 format, only widescreen.
CREDITS:
- Konami – For the game (obviously)
- Jenkeys – For the editing tools
- s03_h4nd1 – Supply of photoshop template
- Firas Zinou – Tutorials and base to work from