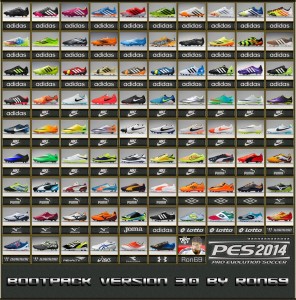 - 86 Boots
- compatible with PES edit Patch 4.0
- compatible with other Patches ( not tested)
- all new Boots added / updated
- required the last FileLoader (not included)
- works with KONAMI Update 1.06 and DLC 3.0
- correct Bootnames, Materials and Colors



Install:
Load and install Tool FileLoader. Copy the folder in the RAR Archiv in the Folder "FileLoader". Overwrite existing Files and Folders.
Credits:
Qinchao, thetrinity12, saks07, scp4eva, PES edit,
Fire Patch, MartyMcFly, Tunizizou and all Bootmaker
Special thanks to:
thetrinity12 (SGangster), scp4eva
Thank you for the excellent cooperation, help and support. Without you, this bootpack would not have been possible.